Late last year, we were called upon for an exciting project – two beautiful old Queenslanders were relocated to the new site for this years' season of Channel Nine renovation series The Block.
It was all hands on deck for each shift which saw our boys travel 1,680 km down the east coast from the sunny sunshine state, through flood-ravaged NSW, to their final destination in Gisborne, Victoria.
Both homes were intricate shifts but the hardest part was keeping it under wraps till the season started in August 2022! Diehard fans were blogging like crazy (check out these articles in the Daily Mail and Celeb news blog) looking to uncover what the show had in store this season. We are very thankful for our mesh wraps!
Check out this insta post from The Block!
Each 200msq Queenslander is now residing on 10 acres of land in Gisborne, where renovators will be transforming them into someone's Australian dream home!
We can't wait to see what the contestants do to bring these two beauties back to life for new families in Victoria.
The 2022 season of The Block: Tree Change is now airing on Channel Nine.
The eventful journey to The Block.
House 1 – Stafford QLD to Gisborne VIC
The first house was removed from Stafford, QLD and began its journey south to Victoria at the end of November 2021, after the owners were starting a new build on the site.
The removal was an intricate 4-day process that involved the delicate removal of the roof, internal lights and 2 soffits. The home was cut into 3 pieces ready for removal.
As we were ready to start the long journey from Stafford, we ran into some technical difficulties. A late-night truck switch meant our journey from Stafford started a little later than expected but we were soon on our way to our first stop – Narrabri, NSW.
Day 1: NSW flood territory
Many would remember that November and December was particularly wet on Australian roads. Southern parts of QLD and Northern NSW, in particular, were receiving unprecedented amounts of rain.
It was a team effort navigating the roads and road closures for safe passage through flood-ravaged NSW. We were very lucky to make it across the main Narrabri bridge just before they closed the road. Had we not crossed when we did, we would have been stuck until the flood receded.
Not only was flooding causing dramas with the road closures, but it was also proving very difficult to find accommodation in Narrabri as many places had been affected by floods and were forced to evacuate. We were very lucky to find the Kaputar Motel in Narrabri who were open and able to accommodate us.
It was a tense night for all, with a potential evacuation remaining a very real threat thanks to the rising flood waters.
Day 2: Country NSW to Lavington, NSW
Thankfully, we were able to continue our journey the next day and we continued from Narrabri through many NSW towns including Coonabarabran, Dubbo and Wagga Wagga. We came to rest in Lavington, NSW (just outside of Albury). This was a great stopping point with plenty of space to accommodate the houses and trucks, while the crew had some dinner and much-needed sleep at the Crystal Fountain Motel.
Day 3: Crossing the border
The following morning, we didn't have as far to travel, we left Lavington and travelled across the border into Victoria. It wasn't long before we arrived onsite in Gisborne, where we unloaded the 3 pieces onto temporary supports, and shortly afterwards began our journey back to QLD.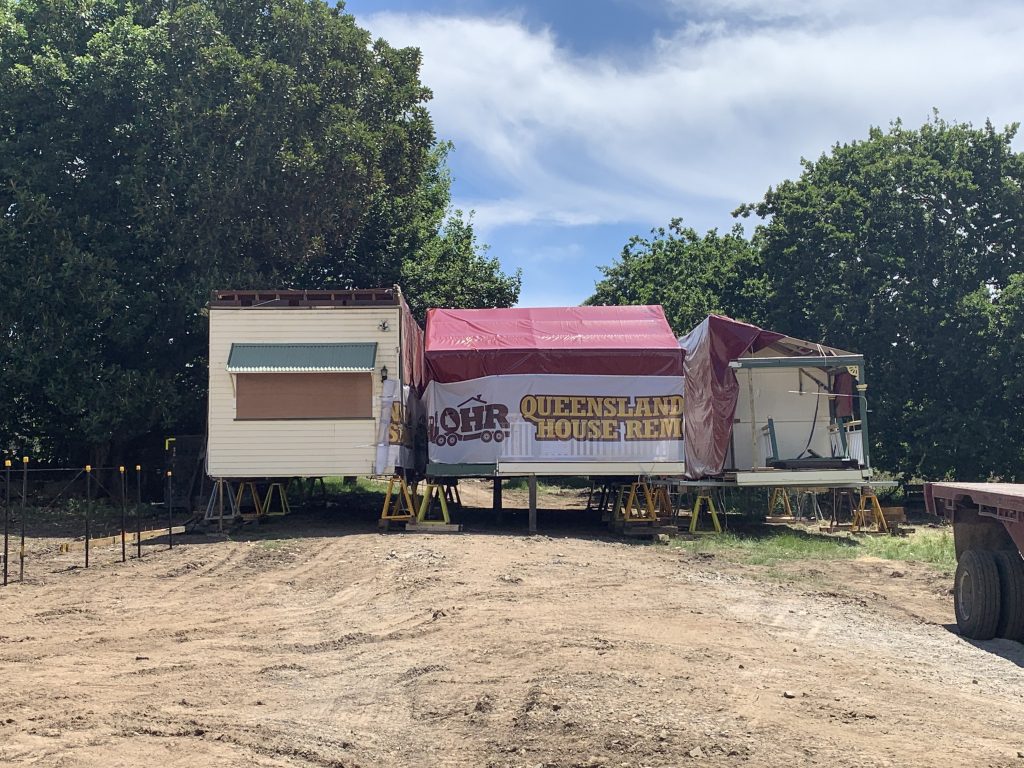 Day 4 and 5: The journey home
For our return home we travelled along the coast road, stopping in Port Macquarie to take the required PCR test and ensure all negative results were received prior to crossing the border (freight drivers should receive results within 24hrs).
Day 6: (Un)expected border delay
The next day we left Port Macquarie for the 6hr drive back to Queensland House Removers in Caboolture. Unfortunately, some of the crew members had not received their PCR results in the expected time and were turned around at the border. We travelled back into Chinderah and stayed at the Chinderah Motel waiting for our test results to be returned. The next morning, all test results were received, and the crew made it back to depot in Caboolture.
Thankfully, the 2nd home had a much less dramatic journey to its final destination. The gorgeous farmhouse was built in 1903 and was moved to The Block site two pieces.
Find out more about house removals or removal homes for sale on our website.